Our Legacy
Our Goals
We started this company over three decades ago because we saw a need in the building industry for innovative designs, quality construction, and superior customer service and satisfaction. We provide cutting-edge homes, with exceptional craftsmanship, in premier neighborhoods while creating life-long relationships. Not just with our home owners, but with our contractors and trades people as well.
Our History
Our rich tradition of building spans three generations dating back to Burt McCaleb's arrival to Oklahoma in 1921. This young civil engineer built bridges and highways in a young undeveloped state, and helped begin the interconnectivity that we take for granted today.
Following in his father's footsteps as a civil engineer, Neal McCaleb graduated from Oklahoma State University in 1957 and launched his own homebuilding and engineering business in 1961 under the name of Arrowhead Homes, Inc. Neal started the benchmark for fine homes in Edmond Oklahoma with the creation of Arrowhead Hills in 1965. He continued setting standards with the creation of several other prestigious neighborhood in Edmond including Cheyenne Ridge, Oak Tree Park, Rock Hollow, Bradbury Corner, Lakes, and most recently, Steeplechase.
Caleb McCaleb graduated from Baylor University in 1984 and immediately focused his career on custom home-building. He worked for a building company in Norman for four years before moving to Edmond to establish himself as a builder in his own right. In 1990 Caleb joined his father in a partnership to create McCaleb Homes. Since then McCaleb Homes has enjoyed being the most popular home-building company in Edmond Oklahoma, delivering finely crafted, cutting edge designs to home buyers seeking timeless designs and quality construction.
Our Philosophy
We treat everyone like family. From our employees, to the contractors who work on our homes, we respect everyone as if they were our own family member. Each individual involved in the building process has insight and input into our homes to make them the unique, inspiring masterpieces that outlast the test of time. This idea of family is extended to our customers. We provide a service and attention that is hard to find in the modern, fast-paced world we live in. Our warranties go above and beyond to insure your peace of mind when you purchase a McCaleb Home. It is not unusual for us to meet a happy homeowner living in one of our homes for 25 years and still living happily ever after.
Our Inspiration
Our homes are bungalow styles historically inspired by turn-of-the-century neighborhoods with superior craftsmanship and details. Yet our homes stay in-step with the changing home-buying market to provide the features that will withstand the test of time. We focus on the details to provide open concepts, natural lighting, and flexibility that will serve your family as you grow and change over time with a McCaleb Homes' home.
Our Promise to Our Home Buyers
The entire team at McCaleb Homes is committed to our customers to provide the most innovative designs and the best quality you will find in the building industry in Oklahoma, while maintaining that personal touch and customer satisfaction we know is important to our home buyers. Your comfort in the buying process is important to us, and that shines through in everything we do from the moment you visit our website, until you walk through the door of your very own McCaleb Homes' home.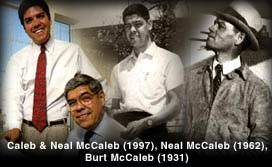 McCaleb Homes is a premiere home builder in Oklahoma. We started this company over three decades ago because we saw a need in the home building industry for more innovative design, better quality and higher customer satisfaction.
meet the people of McCaleb Homes