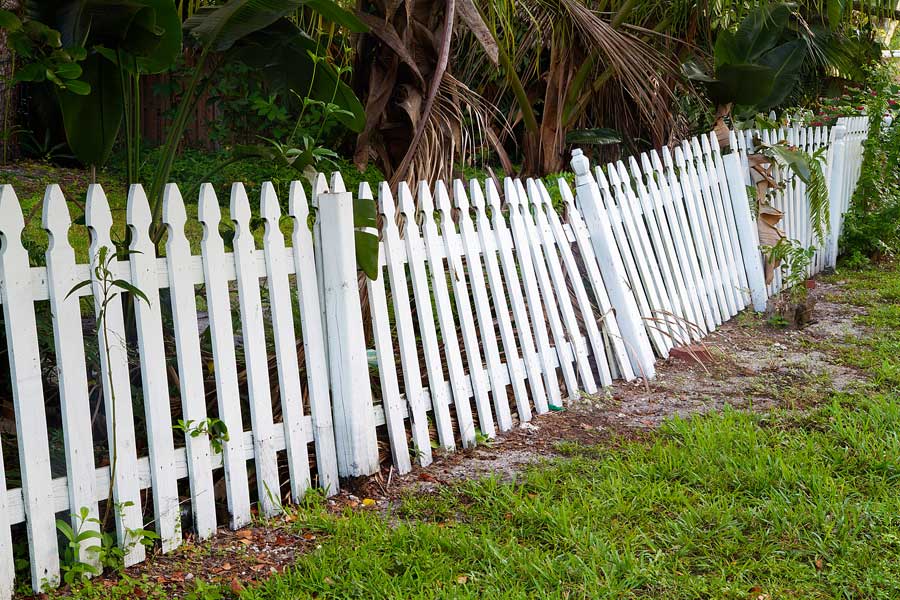 Curb appeal is most often talked about when discussing real estate listings, but curb appeal is important even if you are not planning on selling your home. It contributes to a beautiful neighborhood. It's what your loved ones first see when they visit you. It's what makes you feel proud to pull into your driveway. Today we are going to outline some common things that can rob your home of its curb appeal, along with ways that you can fix them.
Wonky Fences
Fences add value on multiple fronts. They add privacy as well as decorate the perimeter of your property. When fences are rotting or leaning heavily, this compromises your privacy and becomes an ugly scar on your landscaping. What can you do about it? If your fence is leaning, it is most likely due to your fence posts not being secured deep enough into the ground. If parts of your fence are rotting, unfortunately this just happens with time. To solve both issues, you will want to remove all your old posts and boards. If they are still in good condition, feel free to reuse them, but if they show signs of rot and deterioration, go ahead and replace them. Then using a shovel or post digger, dig holes for the post that are at least two feet deep into the ground. Secure the posts into the holes you made. To make them even more secure, fill the hole where the post is with a bit of concrete.
Failing Entryway Steps
The stairs leading to your front door often go unnoticed, but when they start to crumble and fail, they can become quite unsightly. At that point, it seems that they are the only thing you notice. On top of being visually unappealing, failing entryway steps are also a huge safety and tripping hazard. What can you do about it?
Whether the downfall of your steps is a water source or poorly mixed concrete from the beginning, the solution will come in a bag of polymer based Quikrete. Buy a bag that specifically says that it is for structural repairs. Use a masonry chisel to prepare the surface by removing crumbling concrete. Afterwards, rinse the area well with water. Next, follow the manufacturer's instructions to mix the concrete. Using a trowel, layer the concrete up until you have built a smooth surface that is flush with the existing concrete.
Beaten Up Driveway
A driveway that is stained and in disarray is one of the least welcoming things. Overtime, water can freeze and cause cracks, cars can leak oil and stain the surface, and pits just seem to appear with no warning. What can you do about it?
First clean the surface of your driveway with a power washer. Then, make use of a bag of Quikrete Concrete Resurfacer. Using a trowel, cover broken and stained portions with the resurfacer mix.​
If you give attention to these three common issues, you can ensure that your home is always pleasing to look at. For home inspiration, look at our McCaleb Homes gallery! Or better yet, call to schedule a tour of one of our homes.
By McCaleb Homes 4-26-2022