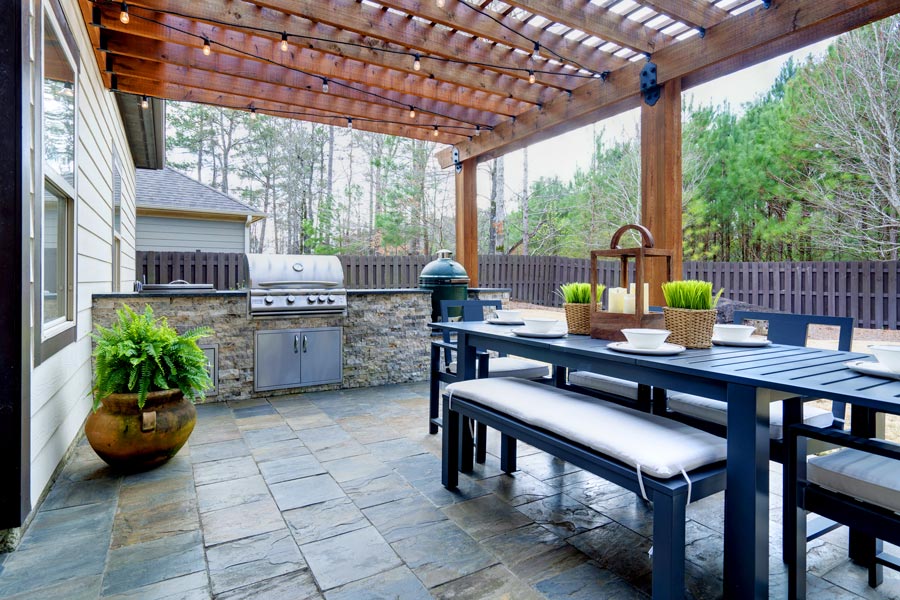 Sun's out and you should be too! At McCaleb, we design beautiful lots to compliment homes because we want you to be able to enjoy all that is yours to the full. If you are eager to spend more time gardening or reading books outside, here are some ways to dress up your backyard and transform it into a beautiful and inviting space.
Outdoor Furniture
One of the first things you should do is invest in comfortable and stylish outdoor furniture that suits your space and needs. Choose weather-resistant materials and consider options such as patio sets, lounge chairs, hammocks, or a cozy outdoor sofa. Add cushions and pillows in vibrant colors or patterns to create a welcoming and cozy atmosphere.
Patio Umbrellas or Canopies
Next thing you need for a welcoming outdoor space is a place where you can beat the heat. You can provide shade and add a pop of color by incorporating patio umbrellas or canopies. These not only protect you from the sun but also create a defined outdoor living area. Choose umbrellas or canopies that complement your existing furniture and outdoor decor.
Outdoor Rugs
Define different zones in your backyard and add visual interest by using outdoor rugs. They provide a cozy and comfortable surface underfoot and come in various colors, patterns, and textures. Outdoor rugs can anchor seating areas, dining spaces, or even create a focal point.
Lighting
Next, you can enhance the ambiance of your backyard with strategic lighting. Use a combination of string lights, lanterns, pathway lights, and spotlights to create a warm and inviting atmosphere. Lighting can highlight landscaping features, illuminate pathways, and extend your outdoor entertaining hours.
Potted Plants and Flowers
Another thing that adds a lot of life to an outdoor space are potted plants, flowers, and greenery. Choose plants that thrive in your climate and consider varying heights and textures to add visual interest. Place potted plants strategically around seating areas, near entrances, or in corners to create a lush and inviting environment.
Outdoor Kitchen or Barbecue Area
If you enjoy outdoor cooking and entertaining, consider creating an outdoor kitchen or barbecue area. Install a grill, countertop space, and storage options for utensils and cooking supplies. This allows you to prepare meals while enjoying your backyard and makes hosting gatherings more convenient.
Cozy Fire Pit
And our last suggestion is a fire pit. A fire pit adds warmth and creates a cozy gathering spot in your backyard. Choose a style that complements your outdoor decor and provides adequate seating around it. It's perfect for cool evenings, roasting marshmallows, and enjoying the company of friends and family.
Ultimately, designing a welcoming outdoor space can be a lot of fun. Take a suggestion or two from this list and get started creating your backyard oasis.
By McCaleb Homes 5-23-2023