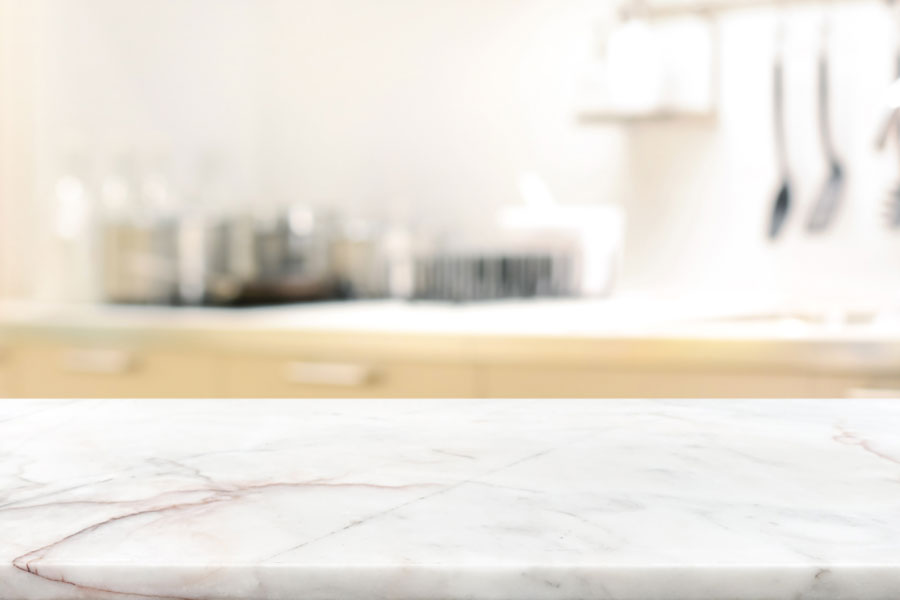 Getting ready for a kitchen upgrade? Countertops are usually the main event when it comes to kitchen remodels and quartz and marble have been two of the most popular choices for the past few years. If you are trying to decide between these two materials, we want to help! Here is a breakdown of the differences between marble and quartz so that you can choose which choice is right for your home.
Marble Characteristics
Marble is a natural stone that has been used for construction and art for centuries. Because it is naturally occurring, there will always be variation between every slab. If having something that is truly unique to your space is a highlight for you, marble can give you that. Color variations range from white to gray to pink and the natural venation varies in pattern and color as well.
Marble does take a bit more special care. Again, since it is a natural material, it reacts significantly to the elements it is exposed to. This can show up as staining due to its porosity or etching when exposed to acidic materials. To guard against this, regular sealing is essential.
And of course, you cannot neglect to consider the price point. When compared to quartz, marble is the more expensive option. On average, marble materials and installation will run you anywhere from $75-$250 per square foot. That being said, you will most likely see that number reflected in added value to your home. At the end of the day, most people see marble countertops as valuable and luxurious.
Quartz Characteristics
While marble is a natural material, quartz is an engineered material. And that is not necessarily a bad thing! It's made from crushed stone and resin. Because it is an engineered material, there is more control over the end look. This is ideal when you want to know exactly what you are getting to match the vision of your kitchen.
Even if you love the look of marble but are put off by the price tag, quartz can be created to mimic the look of any natural stone, including marble.
Quartz is also more durable and less high maintenance than marble. So if you do not have the time for a lot of care and maintenance, this is a great choice for you.
At the end of the day, the choice between quartz and marble will come down to personal style and lifestyle preference. There are pros and cons to each material and regardless of which one you choose, it is sure to add value to your daily life and your home.
Sometimes you just want a change of scenery and that is why you are gunning for a kitchen remodel, and sometimes it is because you were never satisfied with your kitchen in the first place. If having a home that is designed with quality materials and timeless features is important to you, McCaleb Homes is for you. Take a look at our available homes or call and schedule a tour to see what we mean.
By McCaleb Homes 3-23-2023