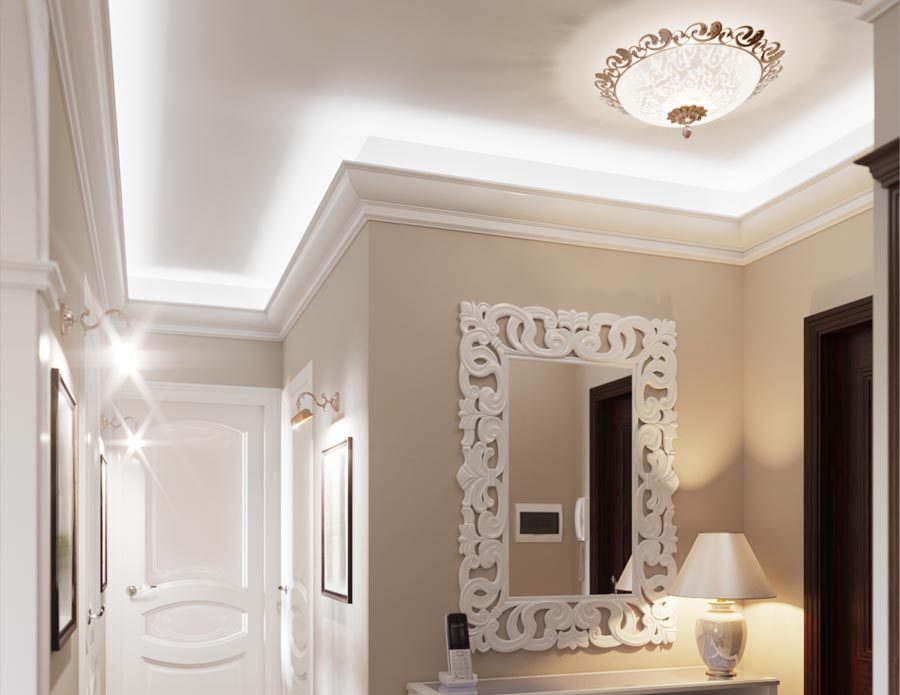 Beauty and function are not mutually exclusive. Which is something we truly believe here at McCaleb Homes. It is why we strive to design and build our homes in ways that are smart, purposeful, and aesthetically pleasing. This idea also ties into the topic we are going to discuss today, hallway lighting. Hallways are inherently utilitarian spaces, taking you from one place to another. That is why making sure that they are equipped with adequate lighting is important. If you feel like your hallway needs to be a bit lighter, here are some stylish ideas on how to make that happen.
Chandelier
If you have a stairway that leads to a hallway, this is a great opportunity to add some drama and elegance. Placing a chandelier at the top of your staircase will illuminate your pathway and draw your attention to the statement lighting piece at the same time.
Slim Floor Lamp
If the idea of doing electrical work is unappealing, a floor lamp can be a great compromise. Lamps are available in so many styles and materials, which makes it a great option if you like to switch up your decor often. A tall, thin lamp can be easily tucked away in a corner so that it offers enough light but does not crowd your walking path.
Vanity Lights
For a moody ambiance, try adding a few vanity lights along your hallway walls. There is a lot of room for you to incorporate your own personal style with the range of choices available, but the result will still create a softly lit passageway.
Recessed Lights
If you do not have a lot of ceiling space or just want something that will blend into the background, try adding a few recessed lights along the way. These will keep the space open and bright.
As you live somewhere, there are bound to be ways that you mold your home to suit you and your family more. Adding lighting to a hallway just might be one of those things. We hope that this list has given you some idea on how to do it in a stylish and purposeful way!
By McCaleb Homes 1-21-2022