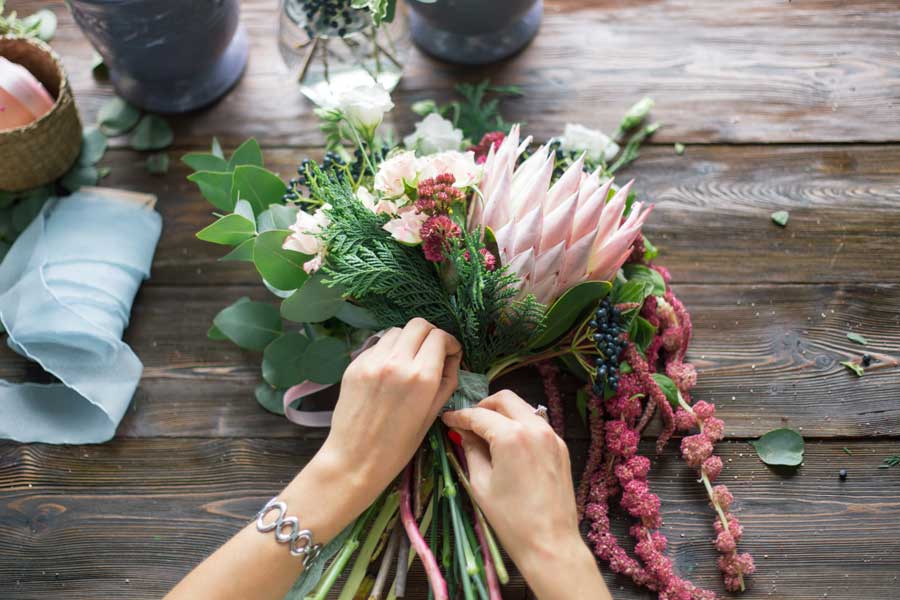 Flowers have the power to make people feel loved and appreciated or to turn a simple dinner into a special occasion. If you want to skip the florist fees and impress your guests or loved ones, here are some keys to creating a quality flower arrangement.
Step One
The first step to creating a beautiful arrangement is of course gathering your flowers. You can source your flowers from several different places, a local market, a florist, or your own garden. There are even subscription services you can sign up for to receive fresh flowers regularly. The flowers you choose will determine what the color scheme your bouquet should be. Find a nice balance of contrasting textures and complementing colors. This is when going to a market to source your flowers will be beneficial since you can mix and match arrangements before purchasing. As a good rule of thumb, a statement flower and two supporting pieces of greenery make a good base for a floral arrangement but have fun with your design!
After you have chosen your flowers, it is time to choose a vessel to display them in. For big blooms, a larger vase is needed to support them, but you can go with a smaller vase for less top-heavy varieties.
Step Two
Once you have brought your selections home, it is time to prepare the stems. Remove any thorns or leaves that appear further along the stem. Trim the stems with your chosen vase in mind. Your vessel will be your guide when knowing at which height you need to trim. Cut the stems at a diagonal angle. This will help the flowers to draw up water. Once you have decided in what order to arrange the flowers, fill the vase with warm, tepid water and add some floral preservatives. When you buy arrangements, florists will usually send a packet of floral preservatives home with you., but if you are doing it yourself, don't forget to purchase some. This solution will dramatically extend the lifespan of your arrangement. After putting so much thought into your bouquet, you surely want it to look vibrant for as long as possible.
Depending on your flower and vase choice, your arrangement may require some added support. Floral frogs, Styrofoam, and floral foam are all great options when you need more stability.
Step Three
Once you have designed and set up your arrangement, there are a few things you can do to preserve it for as long as possible. Make sure to display your flowers away from direct sunlight. Your blooms will stay longer if placed in a cool area. Also make sure to replace the water and plant food every other day. And lastly, be sure to remove dead leaves and blooms as needed.​
And there you have it! If you follow these few guidelines, you can make any floral arrangement you desire. You may even discover a new hobby out of doing so. And if you are on the hunt for the perfect place to host friends and loved ones, take a look at our available homes!
By McCaleb Homes 3-25-2022