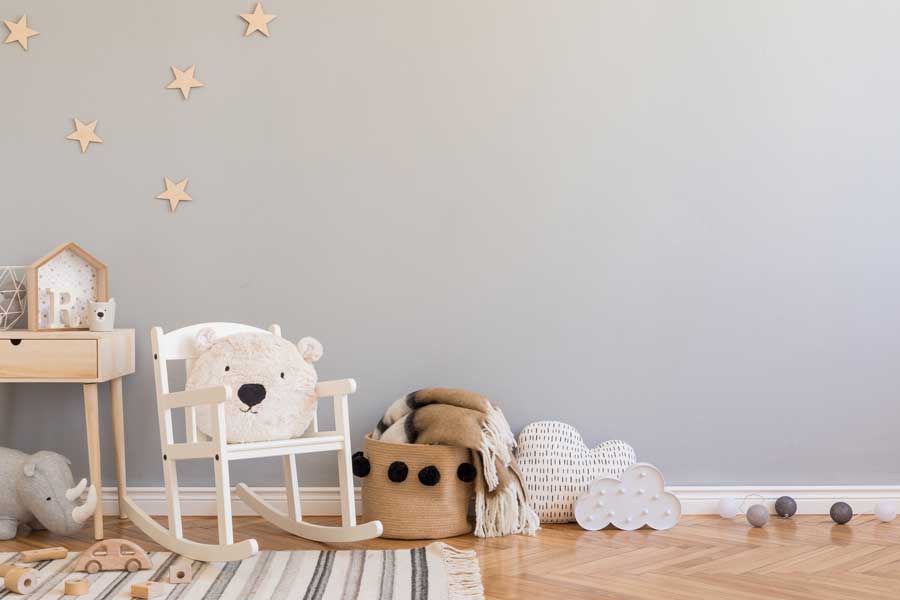 Preparing your home for a new baby is an exciting but also important task. Whether this is your first baby or not, bringing a new baby home from the hospital often still feels like the first time. Our McCaleb homes are designed for families and we want to help make this new transition easier for you. That's why we have created this list of tips to help you create a safe, comfortable, and welcoming environment for your newborn.
Start by Baby-Proofing
As your baby grows, they will become more mobile and curious. Baby-proofing your home is essential to ensure their safety. Install safety gates, outlet covers, cabinet locks, and corner protectors to minimize potential hazards.
Setup the Nursery
Design a cozy nursery that meets your baby's needs. Choose a comfortable crib with a firm mattress, fitted sheets, and avoid using heavy blankets or pillows. Ensure the room is well-ventilated and maintains a comfortable temperature. Include a comfortable chair for times when you are bonding with your newborn.
Create a Diaper Changing Station
Set up a designated diaper changing station with all the essentials nearby. Stock up on diapers, wipes, diaper rash cream, and a changing pad. Make sure the changing area is secure and always keep one hand on your baby during changes.
Organize Baby Clothes and Essentials
Before your baby is born, you and your loved ones will no doubt have been preparing by making sure you are stocked up on diapers and bottles and varying clothing sizes. Make sure to give these things a proper place so that they are easy to access and manage. Organize baby clothes by size and type, making them easy to access. Keep essentials like baby lotion, baby wash, towels, and baby nail clippers within reach.
Baby-Proof Storage
As we mentioned before, as your baby grows, they will become more and more curious about the world around them. Make sure to store hazardous materials such as cleaning supplies, medications, and sharp objects out of reach and in locked cabinets. This will allow them to explore without encountering harmful objects and substances.
Make Sure to Have a Personal Space for Parents
It is also important to designate a space for you and your partner to relax and unwind. Having a comfortable space for yourself is important for your well-being too.
Remember that every baby is unique, and your home's setup will evolve as your baby grows. Creating a safe, organized, and nurturing environment will help you and your new baby adjust to life together.
We hope that you found this list helpful when preparing for this exciting life changing event. And our McCaleb Homes team would like to personally say: congratulations!
By McCaleb Homes 8-30-2023